San Francisco Giants: Four Potential Free Agents to Avoid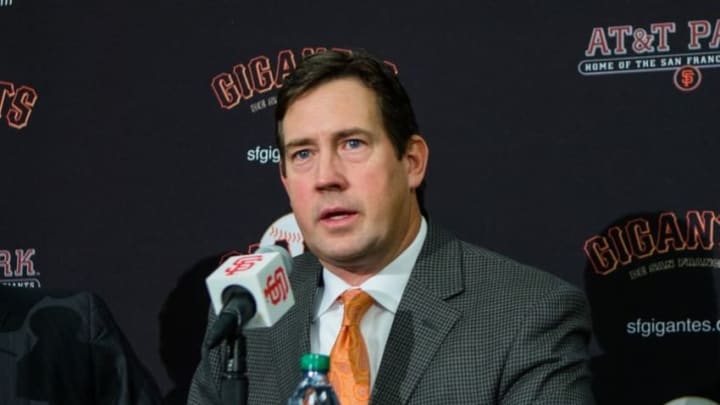 Dec 17, 2015; San Francisco, CA, USA; San Francisco Giants senior vice president and general manager Bobby Evans announces the signing of pitcher Johnny Cueto at a press conference at AT&T Park. Mandatory Credit: John Hefti-USA TODAY Sports /
Dec 17, 2015; San Francisco, CA, USA; (from left) San Francisco Giants chief executive officer Larry Baer and senior vice president/general manager Bobby Evans announce the signing of pitcher Johnny Cueto at a press conference at AT&T Park. Mandatory Credit: John Hefti-USA TODAY Sports /
The San Francisco Giants have needs. They're going to be like that person who just got out of a relationship where certain needs weren't met. They'll fall for anyone who looks like they might have what they were missing. Those are the guys they must avoid.
As the Cubs and Dodgers play on in the NLCS, the San Francisco Giants are stuck making roster decisions. It seems like they may have already made a decision not to keep on one player, Gregor Blanco. In both Bobby Evans' post-season comments, and Larry Baer's post-season letter to fans, the Giants signaled their clear intent on improving the bullpen, and getting an everyday left fielder.
With how bad this year's free agent class is, the Giants sure have some decisions to make. Most likely, some pretty OK players are going to get some pretty gawdy contracts. The Giants need to avoid unnecessary contracts as always.
If Cespedes is willing to play left field and not make a stink about it, then the Giants should give it a shot.
They also need to avoid getting pieces that don't fit the philosophy of the franchise. That would include: bad defensive players, and egotistical players. Evans said in his post-season comments that the Giants just need to score runs, it doesn't matter how they are scored. So it's safe to say power won't be a priority. With all that in mind, here are four players the Giants NEED to stay away from in free agency.