San Francisco Giants at Sacramento River Cats Pregame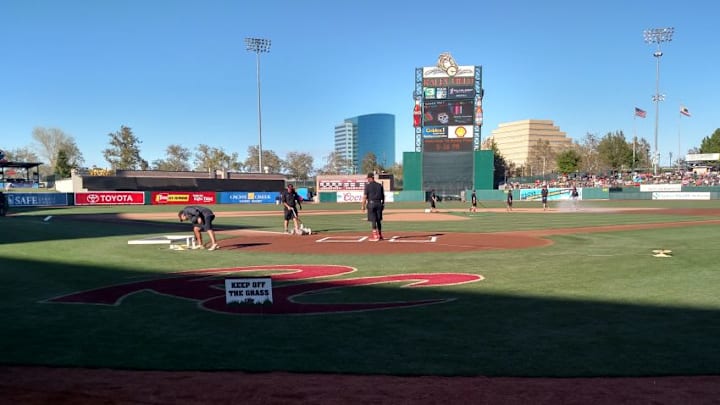 IMG_20160330_160944986 /
The weather was perfect for a game of baseball when the San Francisco Giants traveled to Raley Field to take on the Sacramento River Cats. 
More from SF Giants News
Fans flocked in to see the parent club in one of their final tune ups before the season. Announced as a sellout well before the first pitch, the Sacramento region got a good glimpse of what they will see during the regular season.
Prior to the game, Buster Posey was asked what he was looking forward to in the final days leading up to the opener.  "Just trying to feel as good as you can for the opener."
Hunter Pence, always ready to play a game said "It has been a successful spring, mainly because the team has stayed healthy. It's an awkward stage of the season." Awkward for him since he plays hard all the time and wants every game to count is my assumption. Pence also said he enjoyed his time in Sacramento last year when he was rehabbing.
Matt Cain said that "with a veteran clubhouse, the guys know what they need to do." Cain, coming off a year in which his injuries kept him off the field more often then on, says he feels great. He also said it is "good to get out of the Arizona desert" with the balls flying out of there. And that he is feeling good and not holding anything back. He also commented on Sacramento, and mentioned their great fan base.
In an interview with Brandon Crawford, he said that "after working on my timing over the last week, it has gotten a lot better." And that if the pitcher does hit eighth, he may look for pitches earlier in at bats to jump on. And that he is ready to play in front of 40,000 people as opposed to 12,000. "It gets you prepared."